A survey carried out by the Pew Research Center between February and April 2017 has said that 75% of Ghanaians would go to live in another country if they had the means and opportunity.
The research surveyed in six of the 10 countries that have supplied many of the sub-Saharan immigrants now living in the U.S.
The research lists unemployment, low paying jobs, political instability, and conflict as some of the reasons people want to leave.
The survey also revealed for Nigerians, it's 74%, Kenya: 54%, South Africa: 51%, Senegal: 46%, and Tanzania: 43%.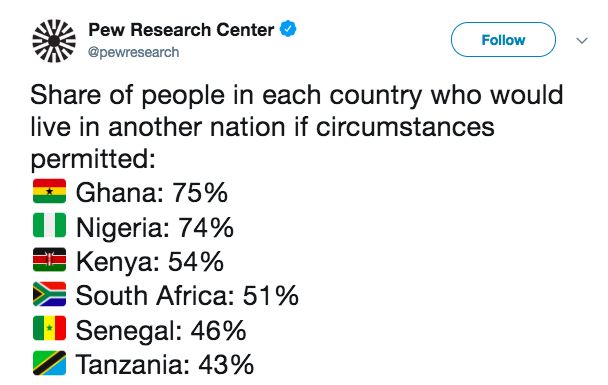 International migration from countries in sub-Saharan Africa has grown dramatically over the past decade, including to Europe and the United States.
Indeed, most years since 2010 have witnessed a rising inflow of sub-Saharan asylum applicants in Europe, and lawful permanent residents and refugees in the U.S.
The factors pushing people to leave sub-Saharan Africa – and the paths they take to arrive at their destinations – vary from country to country and individual to individual.